HANG GLIDING CANCER PATIENTS

article and photos © John Heiney
On August 10, 1985 four people from the Delta Wing Hang Glider factory and Christopher Atkins gave the special free feeling of a flight on a hang glider to sixty young cancer patients, many of whom might not live to learn to fly by themselves. Juan Corral, Bill Carr, and Jennifer Chlebek decided to tag along with Dick Boone, also a Delta Wing employee, and his friend Chris Atkins on a Saturday morning visit to Camp Ronald McDonald for Good Times.
Presently at an 80-acre rented ranch in the hills above Malibu the children can hike, fish, canoe, ride horses, sing songs around a campfire and do other things that allow them to feel like normal kids for a while, and forget that their hair has fallen out due to chemotherapy, or that they have lost a limb to this disease that does not discriminate against the very young.
Chris, one of the new generation of young actors on the scene today, has been a dedicated supporter of the camp, visiting and even working as a counselor, and appearing on TV talk shows to make people aware of this very special place in the world for those who need it. It costs $400 for a child to attend this camp, but the parents need pay only $25 if they cannot afford it.
Chris was skeptical about Dick's idea of giving the kids hang glider rides, but now he is considering learning to fly himself. The Delta Wing Boys brought along two of the new 220 Light Dreams to provide the lift, and Dick, Bill and Juan supplied the thrust. With wheels on the control bar (most useful for pulling the glider back after each flight) the "fledgling pilots" were hung high in a cocoon harness.
| | |
| --- | --- |
| | Left to right: Juan Corral (hang glider designer and plant manager at DeltaWing), a kid having fun, Dick Boone (aircraft designer) and Billy Carr |
On a very slight incline, in a place where a steady breeze could hardly be expected, two wing wire men and one man at the rear of the keel rolled the glider with delighted "pilot" into the air. Once the glider was flying the keel man could release and the two wing men towed the glider six feet high for 150 feet. For each face the sensation of flight turned an expression of eager anticipation into a smile.
Dick and Bill were indefatigable, towing on all the flights while Juan and a counselor traded off. By mid-afternoon sixty kids had the memory of a unique thrill to relive in their minds and conversations. And Dick, Juan and Bill had sore muscles, blisters on their hands, and the satisfaction of having done something that made a real difference, a rare feeling in this life. Chris video-taped the session and might show a clip the next time he appears on a TV talk show.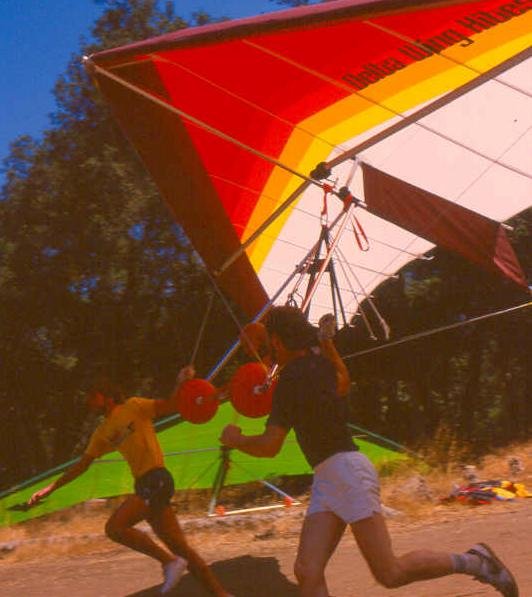 The idea of a camp for children who have cancer was conceived by Pepper Abrams whose oldest son, David, has leukemia. Children so afflicted cannot attend a regular summer camp because of their special medical and other needs. Abrams sought help and her cousin Dustin Hoffman responded with a donation and made his friends aware of the need. Along with Hoffman, those responsible for getting the camp started are Michael Jackson, Richard Chamberlain, O.J. Simpson, David Soul, Neil Diamond, and Marilyn and Monty Hall. Later supporters have been Ronald Reagan, Chris Atkins, Dr. Armand Hammer, Lionel Richie, Cheech and Chong, Ana Alicia, Steve Edwards, Robert Hays, Marcus Allen, Mark Spitz, Tovah Feldshuh, Karen Valentine, Linda Blair and Sissy Spacek.
The name Camp Good Times was changed to Camp Ronald McDonald for Good Times in June '84 when the McDonalds Operatorís Association of Southern California decided to pay most of the annual operating expenses. The camp is a project of the Southern California Children's Cancer Services, Inc., a non-profit corporation founded in 1977 to build the Los Angeles Ronald McDonald House. Ronald McDonald House provides help, comfort and a place to stay for families of young cancer patients undergoing treatment at nearby Children's Hospital of Los Angeles.
Thanks to efforts by Pepper Abrams, Richard Chamberlain, Assemblyman Gray Davis and Governor George Deukmejian, a permanent facility for the camp is in the works with a planned medical clinic, man-made lake, Olympic-size pool and a special grove of trees. One tree is planted for each child that is lost.
End
Published in October 1985 HANG GLIDING Magazine