"HAVE WING WILL TRAVEL"
Diary of a Hired Gun
© John Heiney
Last year a pilot from Norway contacted Dino Dinaso through Dino's Aero Events web site looking for freestyle hang gliding instruction. Dino referred him to me. Long- story-short, he came to San Diego and spent ten days with me to learn how to loop.
His name is Jon Gjerde, he is a farmer and he is one of the most enthusiastic pilots that I have met. He had recently set a new open distance record in his country and he had done his aerobatics homework. He was prepared to loop hang gliders.
We spent most of Jon's time here at El Mirage dry lake aero-towing with Jim Robison. Jim lives at El Mirage and has his tow-capable trike based there. Jon was an excellent student and went home satisfied with many loops under his belt.
This spring Jon E-mailed me with an idea. He told me that it is illegal to do loops on a hang glider in Norway. He had organized a small group of pilots interested in learning aerobatics. They would be the archetype for development of a program for teaching freestyle safely. He had arranged a government waiver that would allow him to pursue this endeavor.
Jon asked me to come to Norway in June to teach his group and to do demos at an event that his town hosts called EXTREME SPORTS WEEK. The following are E-mail updates which I sent to friends and family describing my adventures in Norway and Portugal:

6-29-04
Greetings from Voss Norway,
I am at EKSTREMSPORTVEKO (Extreme Sports Week). I am not getting a lot of flying, but we did our aerobatic hang gliding demos for this event and had a great time. This is the forth year of this event and the first year they have included hang gliding.
On three evenings Jon and I mounted our smoke canisters, towed up and burned it into the town park. It was our job to introduce the other-sport participants and the townspeople of Voss to freestyle hang gliding. We got their attention.
| | |
| --- | --- |
| | The late, great Robin Strid making a perfect landing on the float at Extremsportveko2004. This was the most impressive spot landing I have ever seen. Robin referred to himself as the last hang glider bum in Norway. |
We did go mountain flying one day. I mounted a camera and got to cloudbase (about 8300 feet). It was damn cold up there, but the view was awesome! I flew for 1 1/2 hours and landed in rowdy air in town at the hotel LZ. I heard later that landings were rock and roll everywhere that day. About twenty pilots exited the mountain that day.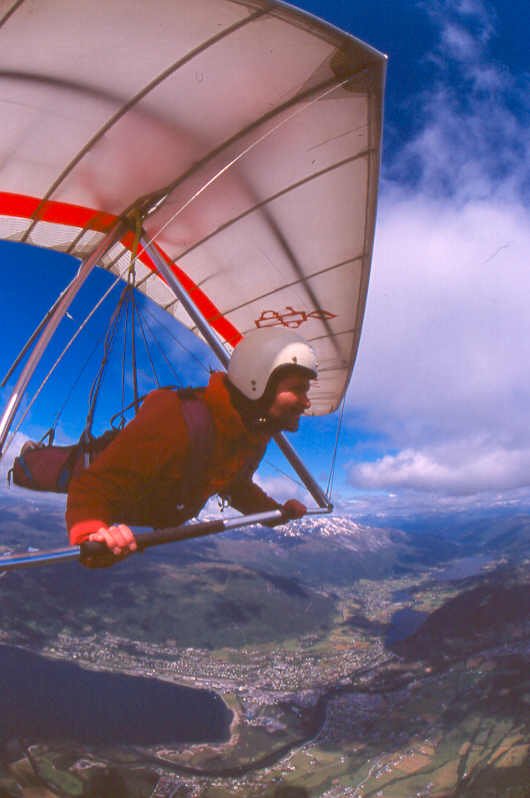 This is a unique gathering since it includes several extreme sports in one big event. The sports are BASE jumping, rock climbing, sky diving, freestyle paragliding, XC paragliding, downhill mountain biking, whitewater kayaking, whitewater rafting, big air and freestyle hang gliding.
The reason it is here is that this area is like a large scale version of Yosemite, maybe even better. Certainly better for hang gliding since there are no restrictions on soaring. There are natural venues here for all sports needing big mountains, tall cliffs and wild rivers.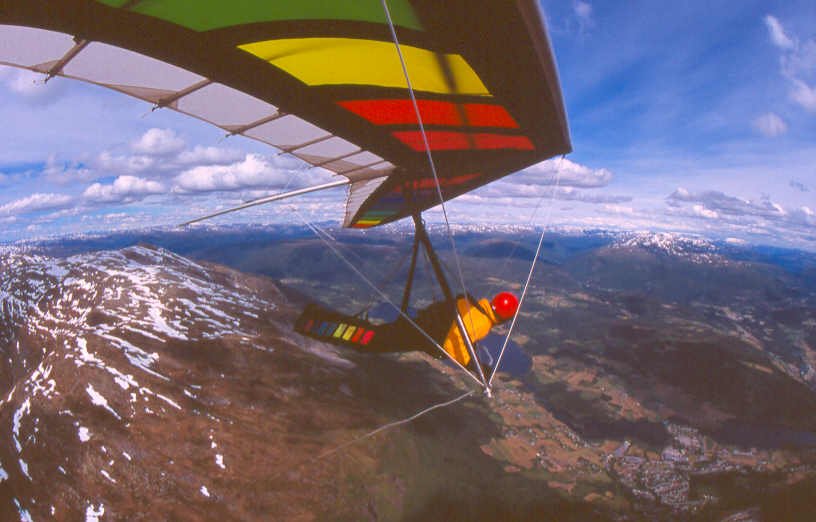 Each evening of the event they show "TODAY´S VIDEOS" in a big circus tent with a thousand participants and onlookers screaming. A team was on-site to receive and edit footage each afternoon for the evenings screening. The screen is about 15 by 20 feet with a mondo sound system. They have concerts every night as well. The Wailers were here. They sounded great.
Today most participants are gone. I helped Jon on his farm. I pitched hay with a three-tined pitch fork. I worked hard all afternoon. Jon's girl friend Renate cooked a fine vegetarian meal for supper. She and Jon are careful about what they eat, but they still eat some mystery meats off the farm. Jon makes his own cheese, beer, smoked meats and sausage.
A farm down the road makes a good living just preparing sheep heads for consumption. They do not even raise the sheep. They just buy the heads from a slaughter house. The strawberries are great. The lilacs were in bloom when I arrived. It rains a lot here so it is beautiful in the summer. There are lakes, fiords, waterfalls and mountains all around.
I taught freestyle to a group of very cool pilots over the week. They are good pilots and very enthused about freestyle. Three pilots did their first loops during my seminar. In preparation they had taken some instruction with Raymond Caux from France a few months earlier.
One pilot on his second looping flight did one loop and went right into a dive for his next. He took a great deal of speed and found there was no pitch pressure when he went to pull up. When he pushed the bar out the glider pitched up abruptly pulling many Gs. We heard a clunk.
The sound was made by his basetube hitting his full faced helmet and chin, and/or by most of the batten toggles breaking on the right side, releasing the rib tension. He went into a nice looking right rolling maneuver and pulled out into normal flight.
He landed safely but his glider had to be taken apart for a complete inspection. His keel was dented and bent under the hang-point perch. His harness back frame was broken. He might have pulled 6 or 7 Gs or more?
I will be flying to Lisbon on the 4th of July. Meanwhile I am enjoying the friendly town of Voss, home town of Knute Rokne. His descendants still run the hardware store his family started here.
Playing it cool,
John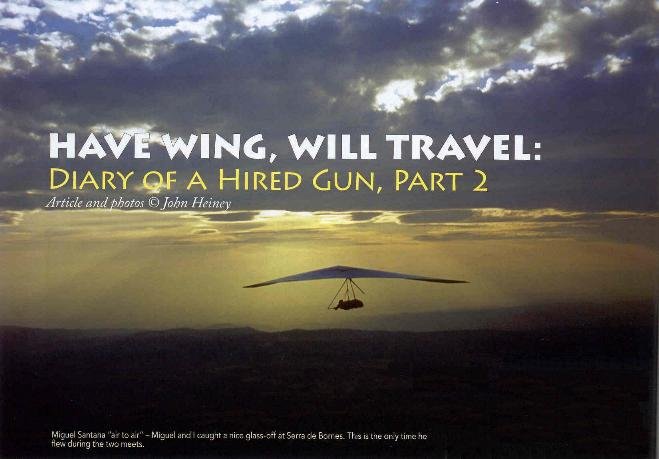 7-22-04
I flew into Lisbon on the evening of the 4th of July when the Portuguese Soccer team lost the final game of the European Championships to Greece. The passengers on my flight were so rowdy it caused me to wonder what would happen if everyone on an airliner jumped up-and- down at the same time.
Andre Rebelo Picked me up at the airport and brought me to his apartment near the sea for the night. Andre and his girlfriend were very hospitable. The next day we loaded the Portuguese Federation of Free Flight van with several computers and drove about six hours to Macedo in the far northeast of the country.
In Norway I had some free time. In Portugal they were running serious cross country hang gliding races (the Portuguese National Championships and the Spanish National Championships). They kept me busy during my entire 18 day stay.
Miguel Santana, the event organizer had asked me to come to Portugal to do freestyle hang gliding demonstrations as entertainment for the local people and the racing pilots. I had met Miguel in Spain in 1996 when he asked me to come to Portugal for the same work at an informal XC contest he had organized).
For this year's contest I agreed to be "wind-dummy" each day and do some loops over launch for entertainment. Wind-dummy is an old and somewhat insensitive term for the guy who launches first to see if the lift is good enough to climb or gain altitude. It is not an enviable job when the conditions are cross or rowdy. It was cross and rowdy most of the time.
On the first day, Friday I wind-dummied, got up several hundred feet, did some loops and buzzed launch. Then I proceeded to spot thermals for the competitors. I climbed out and returned to the launch area several times striving to map out the lift for the other pilots.
Saturday was a planned demo at the Braganca Airport. Braganca is the largest city in the area about 40 kilometers NNE of Serra de Bornes, the mountain from which we launched. This was a strategic area during WWII because of the tungsten that was mined here. Tungsten is used to make tool-steel hard. Braganca would be a goal for the cross country contest.
Super-Promoter Miguel had found out that there had never been a loop record claimed in Europe, so he asked me if I would do some consecutives loops to establish a European record. He wanted something to give to the people of Braganca for promotional purposes.
I had mounted a camcorder from the Lisbon TV crew on my glider and I towed up by ultra-light to about 1000 meters. I turned into the wind to keep from traveling too far from the airport and looped down until I had to break off to set up my landing approach. I flew between the terminal and the hangar and landed right in front of the ground cameraman to great applause.
There was some friendly debate among observers as to how many I had done until a review of the video showed 18 loops. Some of the other pilots decided to take advantage of the presence of a trike and do an aero-tow. The thermal turbulence was mellowing out and the evening was beautiful.
The first pilot to go was one of the best XC racers in Portugal, who had some aero-towing experience. The wind was 90 degrees cross to the runway, so we were towing on an east/west taxiway. It was just barely long enough for the tug to get airborne while towing a hang glider, and there was a fence just beyond the end.
The tug pilot opened the throttle, and shortly after the hang glider got airborne. The tug lifted off as usual just before the end of the taxiway. As the hang glider passed over the fence at 150 feet, he started rolling right and was unable to correct. We were shocked to see the glider roll to 90 degrees and beyond while changing heading 90 degrees to the right, still attached to the tow line!
This is about the worst thing that can happen in towing, (low level lock-out) and it made the hair stand up on the back of every neck that was crooked upward to watch the tow. The situation can be avoided if the pilot is willing and ready to release at the first sign that something is going wrong.
Confident advanced pilots will often try to "fix" the problem and wait too long before pinning off. It is dangerous for those at both ends of the tow rope. The tug pilot must be at maximum attention (especially at low altitude) and give the tow pilot the rope when he perceives he has waited a deci-second too long. In this case both pilots were at fault.
The tow pilot finally released, but now found himself headed straight at the ground. Fortunately he is an excellent pilot and stayed pulled-in until he had airspeed enough to pull out of the dive with altitude to spare that you would gage with a tape measure rather than an altimeter. As he pull out he was heading 180 degrees from the direction of tow. He landed safely.
We retired to the hangar where the townspeople had set up a fine banquet with great comestibles, local wine and short speeches. As our gliders cooled in the evening air outside, we sat enjoying good food and good company while the open hangar door revealed an exquisite sunset scene brought to us courtesy of Mother Nature. It was a perfect moment.
Throughout the week I wind-dummied and flew with the news media's digital camcorders on my wing. Slathered with sun cream, I spent every day but one with the group on the mountain in the harsh sun.
| | |
| --- | --- |
| | Competition pilot and tough-girl Claudia Mejia catching a power-nap while waiting for the wind to straighten out at Serra Bornes. ( Note rock for pillow.) |
Macedo de Cavaleiros is a city of ten thousand people in the far NE corner of the country. It is home to the headquarters of this event. Miguel has run contests here in the past, and he brings a considerable staff of organizers to help. It was very nice to find Press Officer Nelson Moreira so helpful in general problem-solving, friendly company and menu translations.
This is an agricultural area growing small grains, olives, fruits, potatoes, wine grapes and cork from the sobreiro tree to seal the wine bottles. Of course they raise sheep cattle and hogs. Also a crop of new technology is sprouting from the mountains and hills: wind turbines. Miguel's late partner Antonio Sequeira secured a sponsorship from the wind power company for these competitions.
This area of Portugal is known as "The Land Behind the Mountains". Historically it has been isolated from the mainstream tourist trade. Miguel has formed a symbiotic relationship with the cities of Macedo, Braganca, Miranda and Mogadouro. They welcome the visiting pilots, and Miguel thinks of creative ways to promote the area and entertain the locals.
On Saturday the 17th we did another towing and freestyle demo, this time at the Mogadouro airport. Raffael (a beginning aerobatics pilot from Brazil) and I did maneuvers in the evening for about 100 interested locals and contest pilots. Again the wind was cross so we towed across the runway. Conditions got smooth near sunset, and we each did two flights. A Spanish news crew was on site to record the goings-on.
The Spanish pilots had begun to arrive the night before for the Spanish Nationals which would start on Sunday. Several of them flew the 32 kilometers from Serra de Bornes that afternoon and were landing when we arrived at the airport. Miguel, an accomplished pilot himself took his youngest son for a flight on the trike.
Later in Mogadouro we had a fabulous feast cooked on-site by the townspeople. They brought fruit, wine, potatoes, rice, huge platters piled with perfectly prepared pig parts and of course that great Portuguese bread. I am missing that bread already. We ate at long tables under the stars serenaded by a local band consisting of a bagpipe and two drums. A bagpipe in Portugal? Don't ask.
On Sunday we were back on the mountain. I mounted a small camcorder from the Spanish video crew on my glider. They had footage of my doing loops and spins at the airport, and they wanted some on-board footage. Since they were covering the contest they also wanted footage (from above) of the thermalling contestants. They wondered if I could turn the camera in-flight to get both on the same flight. They were leaving that night. I said not likely.
After thinking about it I decided it might be possible. I mounted the camera on a short boom off the corner of the control bar so I could swing the boom in and reach the camera. I wind-dummied and found conditions good. I hooked one right away and climbed 2000 feet above launch. I found a fairly smooth area and did a loop and a spin.
I was able to loosen the ball mount and change the camera to 45 degrees left of forward. Meanwhile, contestants had been launching and climbing out. I pulled in above a gaggle and found it fairly easy to keep the camera on a glider in a turn for several seconds. Because of the extreme-wide lens I had to get very close to the other gliders. At the risk of harassing the contestants I got excellent footage. I heard later that the news people were very pleased.
On Monday the video crew was gone, so I finally had the chance to fly with my own (still) camera. I decided to launch late so I could shoot in the evening lighting conditions. I was hoping to get a picture flying by the large wind generator at the far end of the mountain. All of the contestants had launched and were on course. At 6:PM I was about ready to go when one contestant arrived for a re- start. He had missed the lift on his earlier launch and had to land in the "bomb-out field".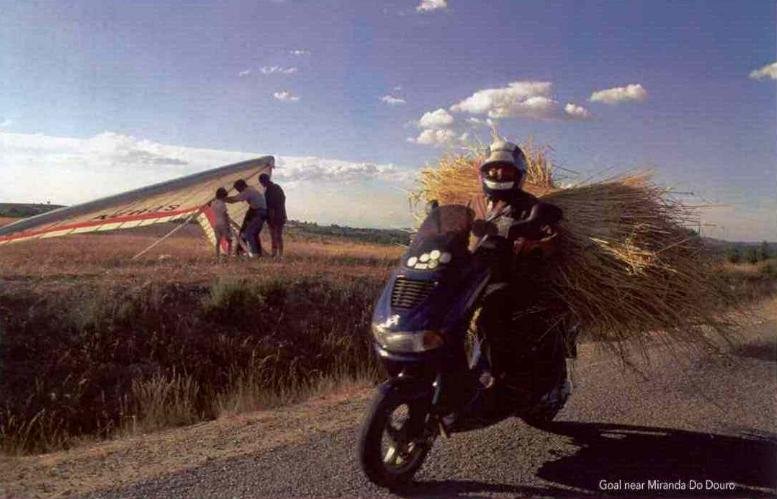 I waited for him to get ready so I could wind-dummy for him. When he was hooked-in I offered to launch first, but he was intent on getting off the mountain so I stood by. I launched shortly after he and ridged-soared the short west face to the left of launch in the 45 degree-cross wind. I found no thermals, just fairly reliable ridge lift. I would have no chance of getting to the wind turbine if I could not find a thermal.
The last contestant was also desperate to find a thermal out of there. He searched away from the safe ridge lift, but soon came back. We were getting bored of the back-and- forth, and finally he headed upwind on his hopeful endeavor.
I chose to head down wind and was totally lucky to find an area of zero-sink where I circled for a few minutes before I began to climb. In the meantime my fellow flyer had found nothing up wind. The last I saw of him he was working too low and far away to get to the bomb-out field. My thermal blossomed into a respectable climb rate, and at last I found myself well above the mountain drifting towards the windmill.
I turned toward the wind mill and arrived high. I burned off altitude to get into position to shoot. I made a pass by the thing and shot when I thought the time was right. I found that I was climbing. I turned and made another photo pass. Again I was climbing. There was a thermal coming up the small canyon in front of the generator! I thought "how lucky".
Then I thought "Wait a minute. The people who built this thing did not position it randomly. They did a wind study of this ridge. This thermal had been found long before I got here. They might not have known it was a house thermal, but they knew the wind blew hard and often in this spot".
I headed up wind to see if I could make it out to the LZ and quickly ran into booming lift. I banked steeply and climbed high over the ridge. I was able to fly into town, find an LZ and land within walking distance of Muchacho (our hotel).
One day as I took launch pictures a competitor thermalled in front of launch about 300 feet up. He hit some raspy lift which started him rolling farther left into his turn. The glider rolled completely upside down, yet he did not pull in before the 90 degree point to fly out of it.
He fell into the wing at just the right position that the glider stayed flat upside down. He did not get his chute out but rode the glider to the bushes below launch. The slow descent of the inverted wing and the cushion of bushes spared him any injury. You can't buy a ride like that.
I ended up sticking around for one last banquet at 11: PM on the night before I was to fly out of Lisbon. Paulo Frade gave me a lift to Lisbon on his return to home and work. We left Miranda at midnight and arrived at Lisbon Airport at 6:AM in plenty of time to catch my 9:30 flight. Thanks Paulo!
The faint whine from Paulo's turbocharger translated into a recurring threat from the bearings to scramble at any moment during the trip to Lisbon I would have been screwed.
In Norway I was privileged to hang out with a great group of people (pilots, event organizers and their friends and family). Portugal was no different except for larger numbers. I felt I had been given a new extended family. It was difficult when it came time to leave and I had to say good bye to some wonderful people who had become part of my life.
I had to fly back to Oslo to catch my flight to the USA. One very cool hang glider pilot whom I had met a month earlier was at the airport to pick me up. I had an overnight layover. He and his girlfriend made whale stew for supper. Yum! The letter I sent him upon my return should make a appropriate conclusion to this update.
Upward wishes
John

8-3-04
Hi Stein,
Thanks again for all you did for me. It was cool hanging with you.
The morning you took me to the airport turned rather hectic after you left. Once the Continental people had told me I was all set, I started reading my tickets and found that the ticket from Oslo to Amsterdam was missing. They said they had no knowledge of it. I went to the KLM desk. It was supposed to be a ticket from KLM arranged for me by Continental. They did not have me in their records. Their one flight to Amsterdam (which I was supposed to have a reservation on) was full.
I wheeled my cart with glider back to Continental. The girl working there was new. I explained the situation. She called in a supervisor.
Remember when you dropped me off, I initially arrived at the Continental desk three minutes before closing time. They stayed open for me. They worked the phones for a long time in Norwegian. I was in the dark. I went and checked the departures board. There were two flights on other airlines that would get me to Amsterdam in time to make my flight to Huston/San Diego. I informed them.
Suddenly the supervisor started hand-writing a flight coupon. He gave it to me and told me to go to SAS and hurry. The plane was leaving soon.
I ran with my cart to SAS and got in a long line. When I got to the SAS representative out front, she said I did not have time to go through the line. She sent me to the "traffic desk". They scrambled to get my glider and bags checked and on the plane.
After leaving my other bags at the traffic desk, I ran with my 12 foot-long glider, now sideways on the cart. I ran into things and people and excused my way to the oversize baggage elevator, where a guy was waiting for me. I left the glider with him and ran to security. Fortunately security was lax and I got through fast.
I ran through the concourse trying to find my obfuscated gate. When I finally found it and approached there was no one there except one SAS rep. He looked at me and said "Mr. Heiney? Go right aboard. We push back in 5 minutes".
Those people at the traffic desk really make things happen. And the people at the Continental desk pulled off a small miracle for me. Their only explanation was that KLM had canceled my reservation. No reason given.
As I sat down in my window seat on the right rear of the plane, I noticed a long red bag being loaded into the cargo hold. At last I could relax knowing that my glider was riding on top of all the other bags, for once at least.
In Amsterdam I saw my glider get rolled off the conveyer and dropped from one meter high to the tarmac. It appears that 5 layers of 1/2" bubble wrap and a heavy bag will protect your glider from the poor manners of most ramp gorillas. My glider and harness bag did not make it onto the Continental flight and were lost for three days. I flew it on Sunday. All is well.
Best adventures,
John Heiney
Links:

End
Published as a 3-part series in January, February, and April 2005 HANG GLIDING & PARAGLIDING Magazine