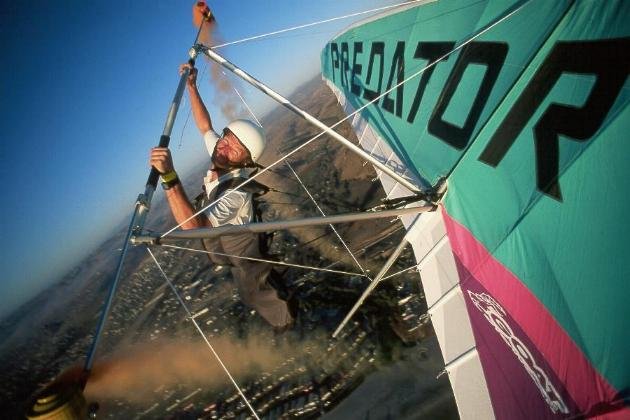 Second Annual Rosarito Light Airshow & Masters of Freestyle HG Contest
© John Heiney 1997

The Rosarito Beach Hotel stands as a stately monument to the craftsmen who built it. It is a 250 room modern and comfortable facility on the beach with two resturants (that satisfied my notoriously discerning palate), a large swimming pool, hot tub and a bar with dance floor that jumps on Friday and Saturday nights. The Rosarito Beach Hotel has character that obviously does not go unnoticed by the many San Diegans who frequent it on the weekends. The Owner of the Hotel Hugo Torres is also mayor of Rosarito.

The general manager of the Hotel, Javier Hinojo an avid skydiver is a man who recognizes the importance of helping a new event get started by providing a suitable venue, and a man who is willing to take a calculated risk that might pay off in promotional value. He graciously opened this beautiful resort to our event providing rooms for all participants, the assistance of his staff and an excellent beach area for our aero-towing and landings.

I think Mr. Torres and Mr. Hinojo have put their faith in the right person. Dino DiNaso is making a conscientious and competent effort to realize his long-time dream of bringing freestyle hang gliding to the public. With his home-grown organization, Aero Events Dino is doing what many people have only talked about over the past several years.

Dino is engineering a solution to the problem of "how to get hang gliding in the face of the general public", and he is doing it the right way. He is doing it the only way that one determined person can. By devoting all the time and money he can, and leaning on his many talented friends to help out. Along the way he is learning the valuable lessons of promotion that will assure the success of his future endeavors. If you get a call from Dino asking for help, feel honored and know that your efforts will be toward a worthwhile event.

Over the last two seasons Hungary Joe Szalai has gained the reputation of being an excellent tug pilot, and he has done it in his own way. Instead of starting a tow park and asking pilots to come to him, he has been taking his tug to events all over the nation. While this might be no great problem if you are flying a trike, Joe does it with a Dragonfly. Just owning and operating an aero-tug is no small task, but Joe disassembles his, packs it in a trailer and takes it where it is needed with his family along for the ride. That is real dedication to the sport.

As I stood on the beach watching Joe towing up one pilot after another I got that warm feeling in my chest (I am sure it was not the food) that tells you that you are witnessing something special. The special thing is Joe's precision flying skills. On his landing approach he would fly along side the glider and pilot waiting for the next launch, missing the tip of the glider with his tip by a few feet while only his right wheel rolled along the slanted wet outer sand. Once in front of the glider he would straighten out on the runway, stopping at his start point for the next tow. This left the rope in such good position that it was a very short walk for the launch director to retrieve the rope. It was poetry.

Joe ran an aero-tow clinic for beginners on Friday before the event as I am sure he will next year. This is a great opportunity for pilots to get some expert instruction in towing and a sign-off at the same time. It is also a chance to get stinking high at the coast, which is a rare and pleasant experience. There are always plenty of tow releases available. I know for a fact that the event organizers welcome free flyers. It is nice to set up your glider once for three days of flying.

Freestyle judge Scott Stuart took his first aero-tows, and after a wiggly start decided he really likes aero-towing. It is a low-hassle way for a wheel chair pilot and everyone else to get in the air. I suspect the aero-tow parks will be seeing a lot of Scott in the future.

There was some kind of flying machine in the air at all times throughout the weekend. Scott Gressitt, Joe Thaanum and Sebastian Hassel flew powered paragliders. Joey Fresquez, Bill Hartke, Armondo Munoz and Juan Corral flew trikes. Bill Rehr and Dave Jurgens jumped from trikes. Dave Jurgens barn-stormed with his parachute hitting the box barn dead center and drawing only a little blood. Scott Gressitt kicked a traffic cone off the event organizer's head. Scott had to gain quite a bit of altitude to get to it.

Joe Szalai and Deiter Gorkie dropped streamered candy on delighted children. This event known as La Pinata de Ceilo (Pinata from Heaven) was made possible through the hard work of Loraine and Marisa Gorkie who fastened ribbons to the candy. Deiter and Joe got the fun of human target practice. Did I hear Joe straining some candy through his propeller?

Driver Jim Robison spent his entire time at the show helping others. We all kept Jim busy driving his truck up and down the beach moving gliders and whatever else needed moving. Jim is a helpful and selfless person who simply by his giving attitude contributes greatly to our sport.

Deiter Gorkie won the Freestyle contest. Over the past few years those of us who are into freestyle competition have noticed the determination and commitment of this fine pilot. He attends every contest that comes along, and he has shown the steady gradual improvement in his maneuvers that is known to be the safe way to approach freestyle. Deiter did all the required maneuvers, and maximized his difficulty score. He flew smoothly, and put together a crowd-pleasing sequence that left no doubt as to the winner.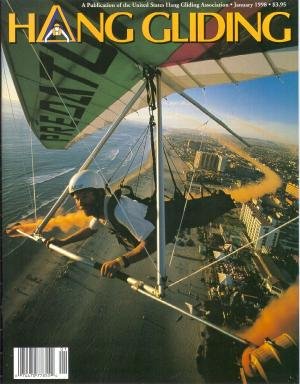 One very interesting aspect of this year's contest is that the pilot who took second place is a woman. Tammy Burcar has shown great dedication to hang gliding freestyle in recent years. She shows up at all the contests, which is a good way to learn and gain experience. At Rosarito Tammy's rapidly improving understanding of contest flying and her ability to perform maneuvers allowed her to beat some much more experienced freestylers. When I first became interested in hang gliding freestyle (or aerobatics as most called it) I decided to fly in the contests so I could rub elbows with the best pilots and learn from them. Tammy has used this method to her advantage. She has good social skills which I am sure will be of asset to her new hang gliding school based in Santa Barbara, California.
It is a healthy sign for the sport of hang gliding freestyle to see two relative newcomers who have worked hard over time to develop their skills and individual styles receiving well-earned recognition. Freestyle is gaining interest worldwide. I know of some excellent young pilots in Europe. To date the expense of air travel has precluded for the most part international freestyle competition. I hope that the new sponsorship potential of the World Hang Gliding Series will lead to better international representation at freestyle events.
No trip to Mexico is complete without sampling the "street food". The main drag just outside the hotel's front gate is lined with walk-up grills. Scott Gressitt, Joe Thaanum and I bellyed-up to the hibachi a few times, and were rewarded with very tasty and cheap tacos and burritos. It is a unique experience to sit on a stool on the sidewalk facing a man grilling your food right in front of you, with pedestrians walking by behind you.
This perspective gives you the opportunity to observe the chef's behavior such as handling raw chicken just before assembling our burritos. People have gotten food poisoning from the finest restaurants in the world. The chief difference here was that we would not have been surprised since we could watch the cook. We did not get sick.
In the past one of the biggest problems associated with running a freestyle contest has been the availability of qualified judges. Telluride has maintained a core group of these individuals locally over the years, but not enough of them to fully staff a contest. It has always been necessary to bring additional pilots with judging credentials in once a year for the contest. The big problem is that you need persons with a required skill, but have little to offer them for making the pilgrimage. Hang gliding freestyle's chronic lack of sponsorship leaves event organizers begging judges to come, often offering only a motel room during the meet.
Long-time hang gliding freestyle devotee RC Dave recognized this problem and more than anyone ever has been making an effort to help. Over the past few years he has run his own informal recruiting program for freestyle judges. Through Dave's work as well as the fact that we now have two annual contests (thanks to Dino and the dedication of the TAF and JZ) our judging pool is probably the most experienced and accurate in the history of the activity.
The judges at Rosarito were Chris Bolfing, Scott Stewart, Eric "the Lifeguard" Smith, Juan Corral and "RC Dave" Freund. This group of dedicated flyers was largely responsible for the high degree of validity of the Masters of Freestyle Contest in only its second year of existence. The fact that last year's Masters Champion Chris Bolfing served as a judge this year further added to the credibility of this new contest.
The Papatlan Flyers provide festive entertainment for the crowds at the hotel. It is a spectacular display of an ancient Mayan ritual celebrating the changing of the seasons as I am told. Four men dressed in traditional garb hang upside down by their feet from four ropes which are part of a mechanism that slowly lowers them from the top of a 50 ft pole to the ground. As they descend they revolve around the pole swinging out farther as they get lower. All the while a man at the top of the pole plays music on a traditional instrument. As seasonal traditions go I think it is way better than cutting down a young tree and decorating it in the living room.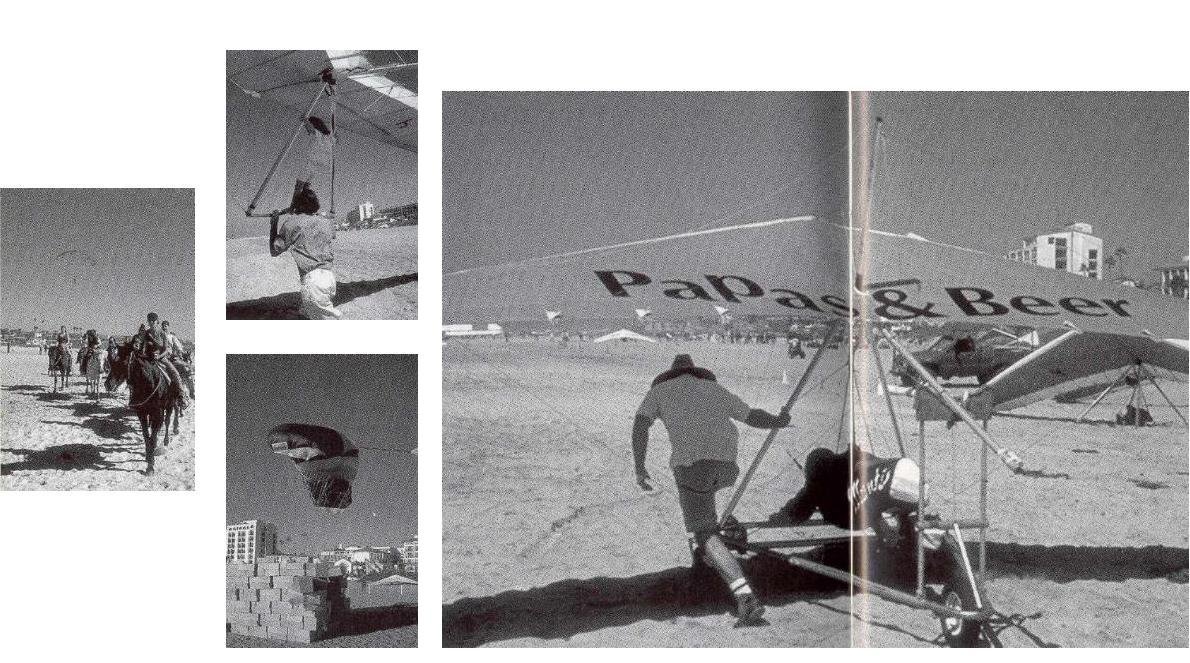 CLOCKWISE FROM FAR LEFT:Scott Gressitt flying a powered paraglider with tourists on horseback, Deiter Gorkie giving his daughter Marrisa a "flight", Tammy Burcar launching, Dave Jurgens "barnstorming"



Armondo Carrasco of Too Much Fun Promotions sent out a Spanish press release drawing the local media. Officials in charge of tourism in Baja attended the show and very much liked what they saw. They intend to endorse Aero Events activities for this and other events. Muchos gracious to Tony Rosquillas for his invaluable contribution to the event.
Papas & Beer Beach Club was a major sponsor for the event. They are a unique night club that sells papas (potatoes) and beer (cervesa) accompanied by, of course, wailin' music. The building is semi-open-air with a sandy volley ball court in the center. They have serious bouncers and a one-way entrance and exit system to handle the enormous crowds that inundate this popular place on the weekends.
Other sponsors include Moyes, Paul Phillips of Lake Elsinore Sports, the USHGA, Airtec, Chuck Embury Parachutes, Carr's Trophies, Mitch McAleer, Smart & Final, Wills Wing, and Altair. The Airshow staff included Pat & Dave Barton, Ken Mennat (announcer) Bill Hartke, Loraine Gorkie, Bubba Elze, Erica Corral, Ed "Edrick" Pollett, "Driver Jim" Robison and Erica Koesler.
To say that Dino was busy this weekend is an understatement. Just resolving all of the little (and big) problems that cropped up occupied most of his time when there were so many fun things to do. In fact Dino missed the first round of the contest because of last minute problems that required his personal attention. To Dino, it was a weekend to: fly in a freestyle contest, play with his daughter, build a barn out of boxes with the local children, crash into the barn with his hang glider (barn-storming), enjoy the excitement of children of all ages trying out the hang gliding simulator, build a barn out of boxes with the local children again, spend time with his wife, eat Mexican food, visit with old friends, try to speak Spanish to Mexican people, etc.
One of the most notable things about Dino DiNaso is how well he relates to children. It would be easy to believe that Dino is a hang glider bum if you did not know him. In reality Dino is one of the most responsible people I know. He always has a full time job (the same one as long as I have known him) and generally flies only on weekends. Despite his mature attitude towards life, he has successfully retained the essence of childhood, which allows him to turn anything into an enjoyable experience. He seems obligated to entertain whomever he happens to be with whether he knows them or not. Creating an event like this is a natural progression in Dino's life. It is his way of entertaining more people.
Final Standings
Deiter Gorkie-Moyes Xtralite-2445
Tammy Burcar- Moyes Xtralite-2406
Mitch McAleer-Wills XC-2400
John Heiney-Altair Predator-2396
Joey Fresquez-Wills Ramair-2286
Dave Biddle-Wills Ramair-2248
Bill Soderquist-Wills XC-2178
Eric Delf-Wills HPAT-2092
Dino DiNaso-UP TRX-2053

Sponsors-donations
Aero Events-$300
Airtec-Light-weight helmet
Altair-$200 Predator conversion gift certificate
Lake Elsinore Sports-$250 mountain bike gift certificate
Moyes-2 carbon fiber helmets
USHGA-5 phone cards, 1 book and other merchandise
Wills Wing-T-shirts and caps
END
Published in the January 1998 issue of HANG GLIDING Magazine